GMADE 1/10 GOM Rock Buggy RTR
Esta version de Gmade GOM es RTR y viene con emisora 2.4Ghz, Motor Brushed 35T, Variador Brushed waterproof y servo de alto torque con piñoneria de metal.
Requiere bateria 2S LiPo o 7.2v Ni-MH, Cargador y 4 pilas x AA para completar.

Política de seguridad.
Política de envío.
Política de devoluciones.
GMADE 1/10 GOM ROCK BUGGY RTR KIT
The GOM (translates to "Bear") features a lightweight, extremely rigid tube chassis that not only looks extremely scale, but protects against impact. The steering servo is mounted to the chassis, and bump steer has been minimized to provide the best possible steering performance. The dustproof receiver box and easy access battery door provide plenty of space for your components. The GOM's front weight balance is designed to increase traction to the front wheels, improving climbing on steep angles and minimizing roll-overs.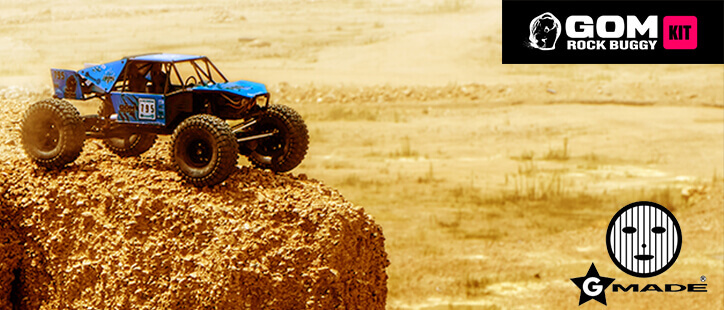 Other notable features include a scale looking transmission and transfer case with a 2 speed transmission, awesome XD Aeration shocks, standard 2.2 size wheels. The Gmade GOM is destined to become a standard in the world of rock crawlers.
This version of the Gmade GOM is RTR and is supplied with a 2.4Ghz Radio control system, 35turn Brushed motor, Brushed waterproof electronic speed controller and a High torque metal geared servo, it just requires a 2S Li-Po or 7.2v Ni-MH battery, Compatible charger & 4 x AA batteries for completion.
---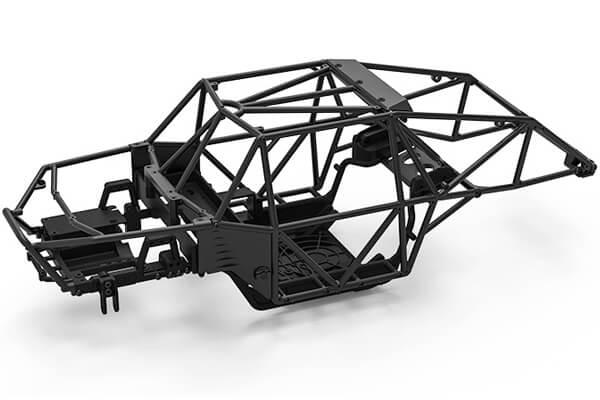 GOM Tube Chassis
The tube chassis is lightweight and extremely rigid. The three-dimensionally connected frame structure effectively protects the internals from external impact. The GOM's chassis is designed to carry more of the electrics up front so that the weight balance helps to create traction for steep climbs.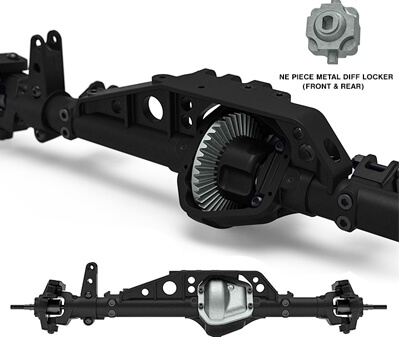 GOM Drive Train
The GA60 axles are structurally reinforced with an axle truss to not only reduce the risk of breakage, but to give a great scale appearance. They feature Hi Steer Zero Ackerman Knuckle Arms for improved clearance and a tight turning radius.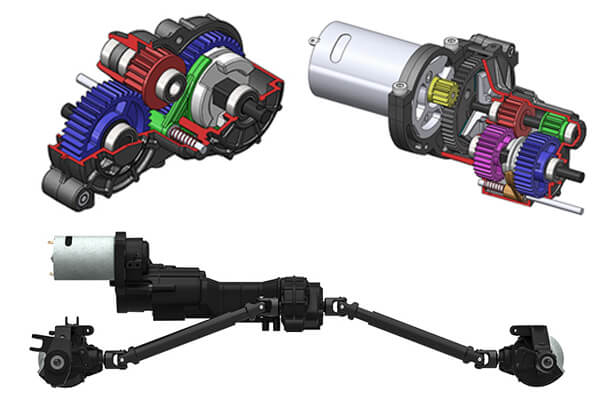 GOM Transmission and Case
The 2 speed transmission, and transfer case with built in dig function, are designed to enhance the scale appearance of the vehicle. The 1st gear is for hardcore rock climbing and the 2nd gear is for hill climbing or high speed driving. Drivetrain efficiency has been improved by lowering the transfer case and reducing the driveline angle. The dual pad slipper holds the spur gear firmly and evenly, making precision settings easy to achieve.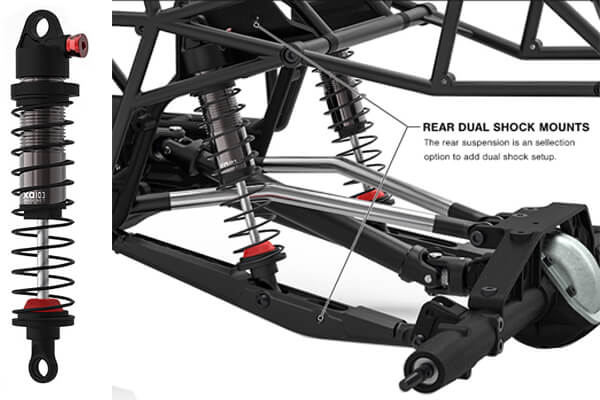 GOM XD Aeration Shock Absorber
Suspension utilizes 103mm aeration coil-over shocks for smooth driving on rough surfaces. Shock bodies are CNC machined, and 3.5mm shock shafts provide high durability. Rebound can be adjusted without disassembling the shock by simply using the aeration shock cap screw. Dual shocks can be added at a later date for the ultimate suspension setup for rough terrain.

Gmade GOM RTR Rock Buggy Features:
- 2 Speed Transmission
- DIG System
- Front Weight Balance
- 4 Wheel Drive
- Chassis Mount Servo System w/ Panhard Bar
- Full Tube Frame Chassis
- Dustproof Receiver Box
- Forward Easy Access Battery Door
- Skid Plate
- Rock Transfer Case
- Dual Slipper Clutch
- Easy Adjust Motor Mount
- GA60 Axle
- HI STEER Zero Ackerman Knuckle Arm
- Adjustable Castor
- Kingpin Angle
- Panhard Bar Axle Mount
- Rear Dual Shock Mount
- XD Aeration 103mm Shock Absorber
- 2.2 inch Wheel & Tyres
- Interior Cockpit
- T21A 2.4Ghz Transmitter and R3A Receiver
- E042A Brushed Waterproof ESC
- 35turn Brushed motor
- S12321 High torque metal gear servo
Spec Check:
- Width: 318mm
- Height: 248mm
- Length: 523mm
- Wheelbase: 380mm
- Ground Clearance: 88mm
- Weight (No Electronics): 2.3kg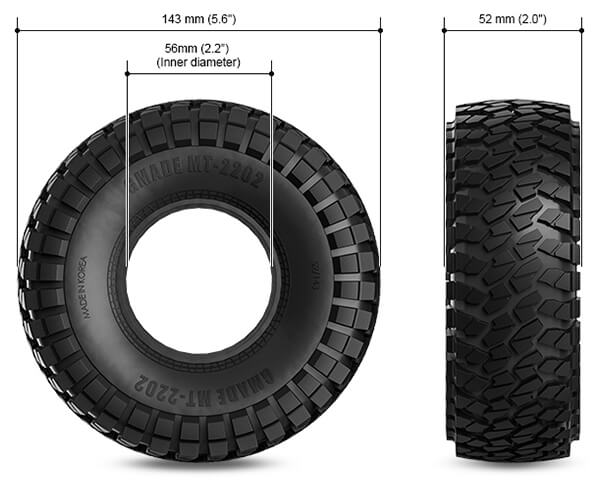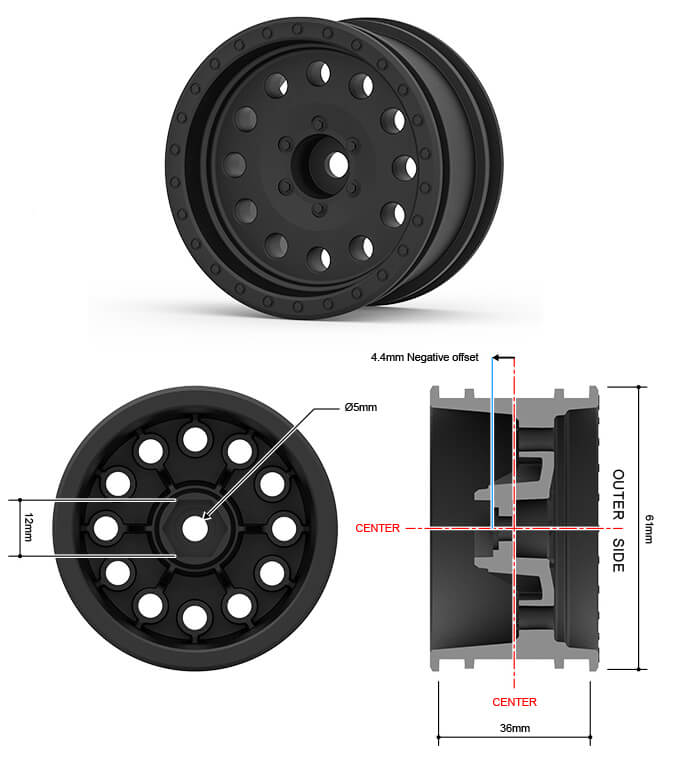 The GOM comes kitted out with Gmade MT-2202 Tyres on GT03 2.2 inch wheels. The super soft tyres provide a high level of traction when crawling but are also suitable for general off-roading.
Tyre Spec:
- Tyre Height: 143mm
- Tyre Width: 52mm
- Inner Diameter: 56mm (2.2")
Wheel Spec:
- Wheel Diameter: 55.8mm (2.2")
- Wheel Width: 36mm
- Wheel Hex Mount: 12mm
- Wheel Offset: 4.4mm Negative offset